Congratulations:Huarui has gained LR ISO9001:2015 certification
24-08-2021
Huarui Honeycomb TechnologyCo.,ltd is specialized in manufacturing aluminum honeycomb,steel honeycomb and high quality aluminum honeycomb panels.Huarui make actively "energy saving and emission reduction,green"green enterprise,promote enterprise,production conditions,management methods,and living environment of continuous improvement.
Huarui honeycomb successfully pass the ISO 9001 LR Quality management systems.
In July,2021,the audit expert group inspected the quality policy and the control situation in the process through on-site inquiry, inspection and sampling, focusing on the scientific research, production, quality control, market and other systems, and conducted on-site audits of the workshop.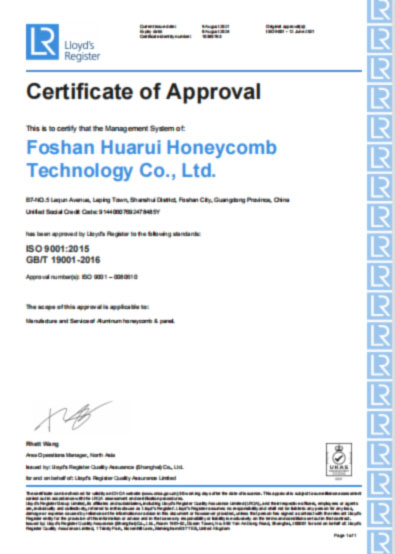 Gaining certification from Lloyd's Register (LR) demonstrates that the quality management system of Huarui follows a robust and globally recognised approach, that's focused on continually improving processes and managing business risks to meet the needs and expectations of customers.
We believe that the establishment and operation of the quality management system will help the company to continuously improve its quality management level, establish a good corporate image and reputation in the market competition, and is of great significance to the company's long-term development.