Ultra-light aluminum foam aluminium metal foam board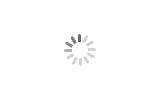 Ultra-light aluminum foam aluminium metal foam board
● Excellent physical properties,mechanical properties
● Environmentally friendly,material is 100% recyclable
● Good energy absorption
What is aluminum foam?
Aluminum foam is a porous composite metal material with aluminum or aluminum alloy as the matrix and metal skeleton and pores as the composite phase. The performance depends on the metal matrix, porosity and pore structure.Aluminum foam is divided into two structural forms: open cell and closed cell.
| | |
| --- | --- |
| open cell aluminum foam | closed cell aluminum foam |
Open cell aluminum foam:
● The pores are connected to each other, and the metal aluminum has a three-dimensional network structure;
● Due to its permeability or open porosity, it can be used for applications requiring vibration and sound absorption.
Closed cell aluminum foam:
● The pores are closed to each other, and the metal aluminum has a polyhedral wall structure.
● Due to its excellent mechanical properties, it is mainly used as a structural material to bear loads and absorb energy.





What are aluminum foams features?
Lightweight

The aluminum foam density is about 1/5~1/10 of pure aluminum

Great cushioning performance

ideal impact energy absorbing material

Electromagnetic shielding

performance improved by 1000 times

Green and environmental protection

Recyclable and non-toxic

Strong weather resistance

Moisture resistance and heat resistance

Sound absorption and noise reduction

Excellent thermal insulation effect and good acoustic function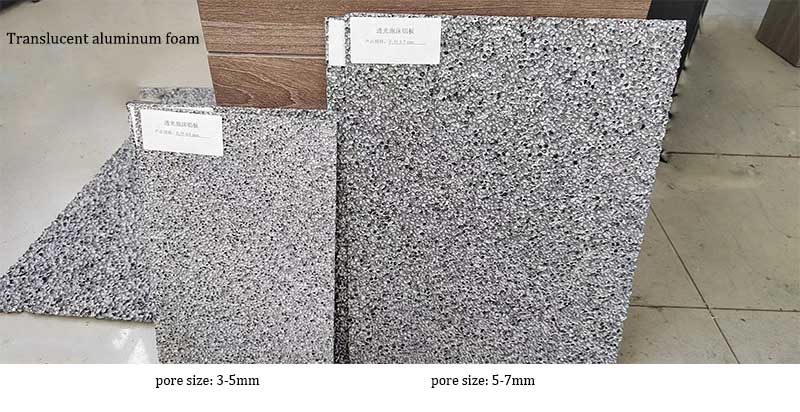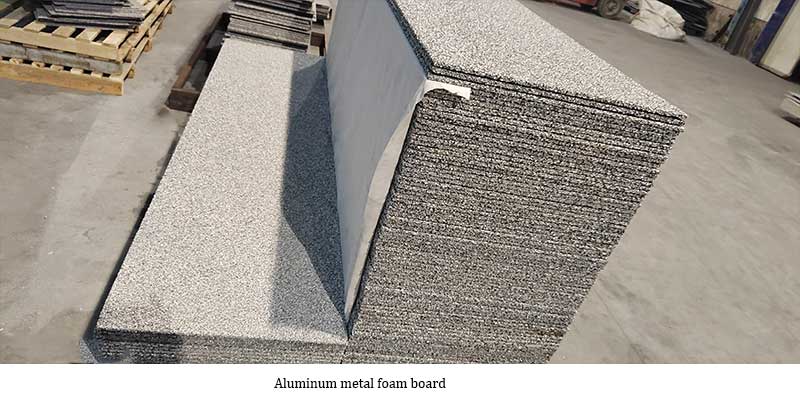 How is aluminum foam physical characteristics?
Ultra-light/low Weight
Pore diameter
3-8mm
Density
0.2-0.6g/cm 3
Size availability
520*520,1000*2000,1200*600,
Weather Resistance
Heat / non combustion property
A1 grade
Thermal conductivity
0.28W/M.K
Melting point
>600

℃

Mechanical properties
Tensile strength
1.3-4MPa
Compressive strength
3-10Mpa
Shear strength
0.43Mpa
Damping
0.09
Specific stiffness
1Gpa/gcm 3
Acoustic Performance
Sound insulation (10mm Thickness)
14 dB
Sound insulation (composite board)
32dB
Acoustic absorption coefficient
NRC 0.7
Sound absorption (1000Hz -2000Hz)
40% ~ 80%

Electromagnetic shielding
>80dB
Extra
Salt Spray test
1000h No Corrosion
What are the application of aluminum foams ?
Aluminum foam has excellent physical properties,mechanical properties as well as recyclability,which make it the wide application prospects in today's material field, especially in the transportation,aerospace,and building structure industry.
For example: concert halls, theater, studio, subway stations, hotel lobby,shopping mall, exhibition hall,railway, elevated roads,indoor decoration.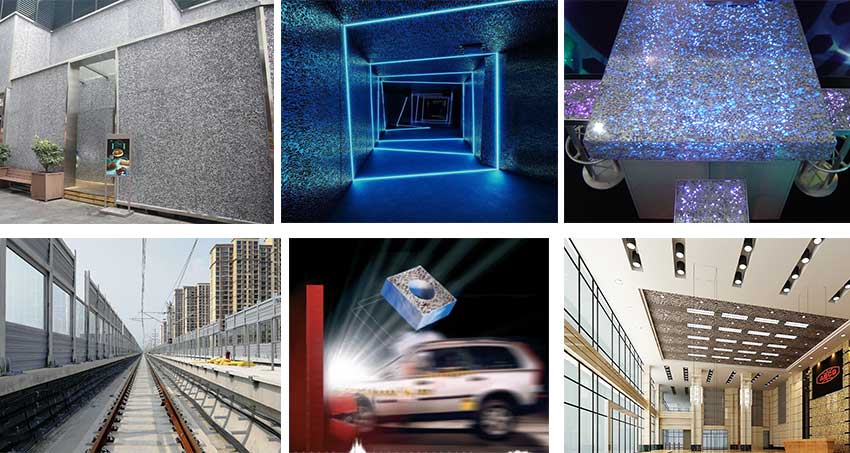 Packaging& Shipping